MARK PAULINE
1989 Grant for an Individual Artist: Sculpture Award Exhibition Major Award Recipient
July 11- August 19, 1989
---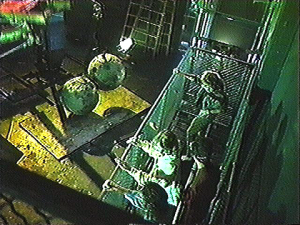 Survival Research Laboratories (SRL) is a machine performance art group credited for pioneering the genre of large-scale machine performance. Since its inception in 1978 SRL has operated as an organization of creative technicians dedicated to re-directing the techniques, tools, and tenets of industry, science, and the military away from their typical manifestations in practicality, product or warfare. Since 1979, SRL has staged over 45 mechanized presentations in the United States and Europe. Each performance consists of a unique set of ritualized interactions between machines, robots, and special-effects devices, employed in developing themes of socio-political satire. Humans are present only as audience or operators.
SRL was founded by Mark Pauline in November, 1978. The first show was "Machine Sex" on February 25, 1979.
Throughout the 1980s Pauline was joined by a number of machine artists including Matt Heckert and Eric Werner. Matt Heckert's main work in the group centered on the acoustic and musical parts of performance. He left the group in 1988 to follow his musical interests, developing the award-winning Mechanical Sound Orchestra which has toured the USA and Europe extensively.
---