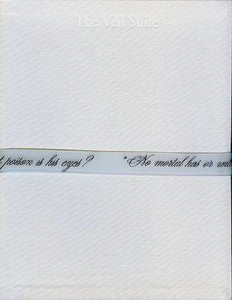 THE VEIL SUITE
ART BY IZHAR PATKIN
POEMS BY AGHA SHAHID ALI
The Veil Suite, a collaboration between Israeli born painter, Izhar Patkin, and Kashmir's respected poet, Agha Shahid Ali, employs the veil as a meeting ground for their Jewish and Muslim cultures. Following Dante's highly lyrical form of the Italian canzone, Ali wrote The Veiled Suite just prior to his death specifically to inspire Patkin's compelling series of floor-to-ceiling paintings of pleated illusion. The Veil Suite is a poetic and visual tour de force that converges the complexity and contradictions of two worlds.
---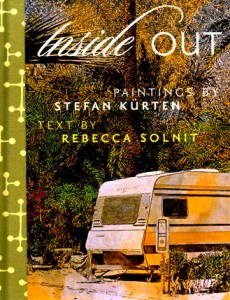 INSIDE OUT
ART BY STEFAN KURTEN
FICTION BY REBECCA SOLNIT
A meditation on the dilemmas and desires for home that combines the writings of art critic and cultural historian Rebecca Solnit with painter Stefan Kurten's lush images of domestic interiors, buildings, and landscapes. Solnit reflects on emotional privatization, real estate-fetishism, and aesthetic pleasure, while Kurten's paintings of stale bourgeois suburban homes project a dogged attempt to make life perfect, at least on the surface. His armchairs, ottomans and planter boxes suggest that we are living a peculiar state of safety and bliss. Together, the text and images question the equation of ideal houses with ideal lives, the images that shape our perception of childhood, and our notion of a fulfilled adulthood.
---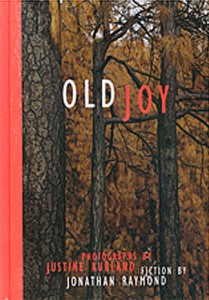 OLD JOY
PHOTOGRAPHS BY JUSTINE KURLAND
FICTION BY JONATHAN RAYMOND
A meditation on cosmic themes of purification and desire, writer Jonathan Raymond describes a hike by two old friends to remote hot springs in the foothills of the Cascades. As the hours progress, and the landscape evolves, twin seekers Kurt and mark enact a pilgrimage of consciousness replete with mystical insights and intimations of subtle spiritual battle. Coupled with the work of Justine Kurland- haunting color photographs of burned forests and naked visionaries in wild tableaux-Old Joy's narrative of sacrificial transcendence spirals toward an inevitable, violent consummation.
---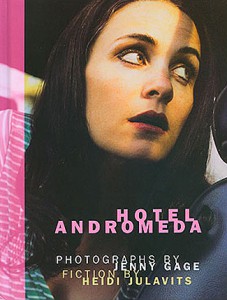 HOTEL ANDROMEDA
PHOTOGRAPHS BY JENNY GAGE
FICTION BY HEIDI JULAVITS
A collaboration between Jenny Gage and Heidi Julavits, Hotel Andromeda is an exploration of rigged biology, femininity and guns. Five girls, born on the same day to the same mother, each have different fathers. Regina, Lydia, Pamela, Dora and Danielle have been under constant surveillance since they were infants, and live alone in a hotel or is it a hotel? The rooms are empty, the girls have daily appointments with a talk therapist; their mother, a championship marksman, seems to have forgotten about them. As their boredom intensifies, so does their deviousness, and their ideas about personality and identity are challenged by the oppressive predictability of their environment.
Hotel Andromeda, which combines Gage's lurid and surreal photographs with Julavits' penchant for the giddily sinister, is a wicked mediation on girlhood, alienation, and the perversions born from the being watched in isolation.
---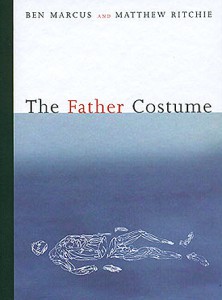 THE FATHER COSTUME
IMAGES BY MATTHEW RITCHIE
FICTION BY BEN MARCUS
Behold a stunning world, made mostly of water, where clothing changes people's behavior and time itself can be worn and discarded like cloth. Witness a father who takes his two boys out to sea, in flight from some menace at home, thus launching their adventures in a strange and dangerous territory. Artist Matthew Ritchie's striking images blend scientific diagramming with vivid, colorful renderings of the apocalypse, while writer Ben Marcus's cold prose plumbs the inner workings of two boys caught out at sea with a father whose costumes grow increasingly menacing. Looking at [Matthew Ritchie's] paintings is like being in Dorothy's cyclone–one minute a one-celled organism wheels by, the next minute a sequence of skulls streams along from a school chart on evolution.
---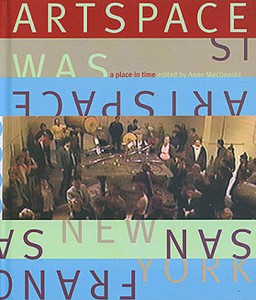 ARTSPACE WAS, ARTSPACE IS
EDITED BY ANNE MACDONALD
Between the boards of this radical publication, the unique forum of ideas that is Artspace comes alive in a wiley, provocative and thoughtful compilation of image and text. Documenting and interpreting an irreverent 15-year history of exhibitions, publications, performances, video and film, this book challenges the notions of what an organization for and about artists and their ideas can be on the cusp of the 21st century.
---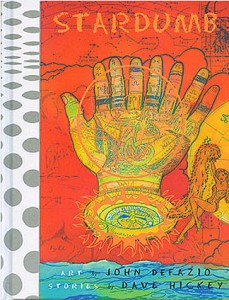 STARDUMB
ART BY JOHN DEFAZIO
STORIES BY DAVE HICKEY
Stardumb is the astrology book for the art world at the millennium. Psychedelic artist John deFazio and writer/critic Dave Hickey have created an up-scale divertissement at the intersection of the star culture and art star culture at the end of the century. Based on their own deeply knowledgeable and willfully perverse visions of contemporary culture, deFazio and Hickey each provide their own ebullient interpretations of the twelve zodiac archetypes.
---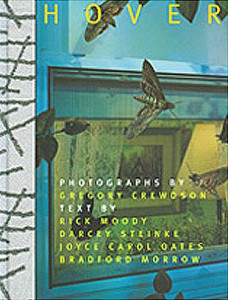 HOVER
PHOTOGRAPHS BY GREGORY CREWDSON
TEXT BY RICK MOODY, DARCEY STEINKE, JOYCE CAROL OATES, BRADFORD MORROW
Highly acclaimed novelists Rick Moody, Bradford Morrow, Joyce Carol Oates, and Darcy Steinke reflect on the color photographs of artist Gregory Crewdsen in Hover. The seamless blurring of photographic realism and hyperbolic fiction produce a complex and compelling set of tensions that bring together the ordinary and the sublime, beauty and repulsion, domesticity and wilderness, and nature and artifice. In this collision of styles and intentions, a language and pictorial effect hovers between realism and unreality.
---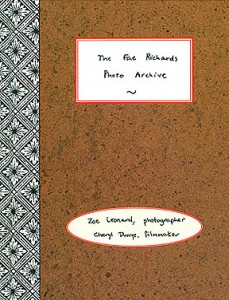 THE FAE RICHARDS PHOTO ARCHIVE
PHOTOGRAPHER ZOE LEONARD
FILMMAKER CHERYL DUNYE
Photographer Zoe Leonard and Filmmaker Cheryl Dunye have created a riveting fictional character, Fae Richards 1908-1973. The black actress and singer, Richards emerges as an elegant and dynamic performer who resists typecasting. In glimpses of her personal life, we see a passionate woman who consistently breaks out of the social restrictions of her era.
By providing images as clues: snapshots, film stills, publicity photos, and a few brief captions, the archive invites speculation about her life. We see evidence of her evolving identity: her relationships with Martha Page and June Walker, her work in Hollywood and later in black-cast "race films." By experimenting with photographic conventions and borrowing from the lives of historical figures, Leonard and Dunye challenge the lines of race, class, and sexuality in history.
Although Fae Richards never lived, she is drawn from the lives of many people. Her story, though fictional, is plausible. She stands as an homage to women whose lives are not recorded.
The photographs were taken by Zoe Leonard, based on a character conceived by Cheryl Dunye, and they are used in Cherly Dunye's film "The Watermelon Woman"(1996).
---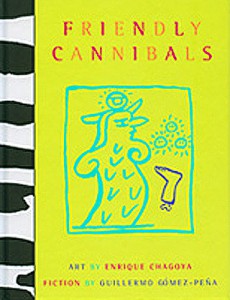 FRIENDLY CANNIBALS
ART BY ENRIQUE CHAGOYA
TEXT BY GUILLERMO GOMEZ-PEÑA
Interdisciplinary artist and writer Guillermo Gomez-Pena collaborates with visual artist Enrique Chagoya in a multilingual, per formative "Latino cyberpunk" exploration. Gomez-Pena describes the possibility of a dystopic immediate future of the United States in which there are no geopolitical borders left, all American cities are fully borderized, the government is now controlled by a multiracial junta; Chicano culture and the Spanglish language are now mainstream. Anglos have become nomadic "minorities." Chagoya presents a fictional pre-Columbian codex book illustrated by a fictional 20th century Nahua artist. Images stem from ancient Meso-America, American comic book characters, Catholic iconography, ethnic stereotypes, and the border patrol. This "reversed anthropology" incorporates humor to create a portrait of an America turned upside down.
---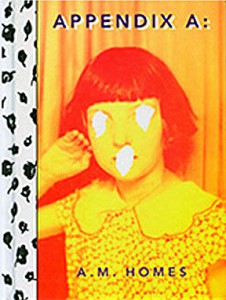 APPENDIX A:
BY A.M.HOMES
In the ongoing explorations, highly acclaimed novelist and art critic A. M. Homes exposes the breath of her creative process and unleashes her imagination. Appendix A: An elaboration of the novel The End of Alice is a unique investigation of the troubled boundary between truth and fiction, art and evidence. The odd assemblage of the author's clues to the narrator's mind is liquid proof as to the fluidity and fragmentation of identity.
---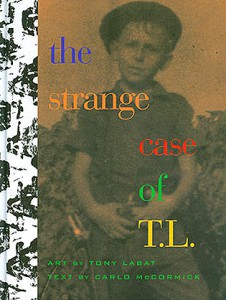 THE STRANGE CASE OF T.L.
ART BY TONY LABAT
TEXT BY CARLO MCCORMICK
The Strange Case of T.L. weaves together a hilarious series of first person accounts as if delivered by a cast of ward patients recorded by the anonymous doctor. A terrorist, a punch drunk boxer, a Cuban cowboy, a perverted teacher, a coke dealer, and an acid casualty who actually think he walked on the moon. There's no telling fact from fantasy here, the only thing you can be sure of in this multicultural romp is that truth is stranger.
---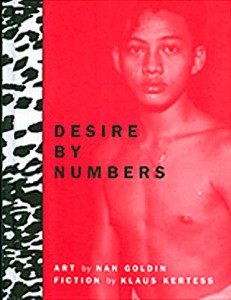 DESIRE BY NUMBERS
ART BY NAN GOLDIN
FICTION BY KLAUS KERTESS
Desire By Numbers counterpoints Nan Goldin's photographs of teenage sex-workers in Southwest Asia against Klaus Kertess' short story about the failures of language, love, and desire. Photography as memory is played off against writing as memory, the verifiability of one medium becomes the illusion of another, as two characters argue about sex and end by fighting for the love of a man already dead.
---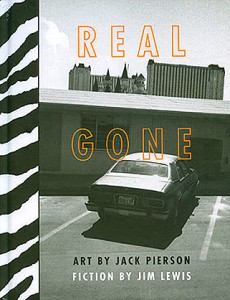 REAL GONE
ART BY JACK PIERSON
FICTION BY JIM LEWIS
The outcome of a road trip to Las Vegas by artist Jack Pierson and author Jim Lewis, Real Gone is neither a travel guide nor a photo-essay. Instead, the collaborators have created a work which lies somewhere between fact and fiction. Pierson's photographs are free-floating, seductive images of the city. And Jim Lewis has woven together a story set on and off the strip; descriptions of the trip the authors in fact took; and reflections on the city as a center of recreation, a magnet for high rollers and low-life.
---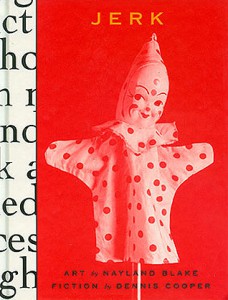 JERK
ART BY NAYLAND BLAKE
FICTION BY DENNIS COOPER
Highly-aclaimed conceptual artist Nayland Blake has created a series of marionettes and puppets to examine ritual, addition, cultural iconography and fetishism. These strange and gorgeous objects inspired notorious fiction writer Dennis Cooper to create an original story based on the confessions of David Brooks, one of two accomplices to serial killer Dean Coril.
Using the puppets to act out various elements in the human psyche, Blake and Cooper enjoin in their works the exploration of the darker truths about human desire, and the vertiginous proximity of the erotic with the horrific, and the humorous and the unthinkable.
---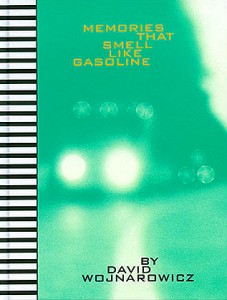 MEMORIES THAT SMELL LIKE GASOLINE
BY DAVID WOJNAROWICZ
David Wojnarowicz, one of the most provocative artists of his generation, explores memory, the longing for love, and sexuality in the specter of AIDS in Memories That Smell Like Gasoline. Memory drawings, ten cartoon/comic narratives; ink paintings of 3rd Avenue movie houses (before Health Department closures 1988-1989), ten diarist studies; and dreamlike memoirs react episodes from the artist's life in a meantime devastating, always sublime document about coming of age in America.
Update July 2018: The New York Times: He Spoke Out During the AIDS Crisis. See Why His Art Still Matters. David Wojnarowicz's profile is high this summer, with a rich retrospective at the Whitney Museum and two gallery shows.